Trusted Tax Preparer | Concord CA
The Best Tax Preparer in Antioch, CA
When it comes to seeking for the best tax preparer in town, look no further than the quality services provided by Gamarra, GPA Inc.
Gamarra, CPA was established to provide exceptional tax services for individuals and companies. Founded by Mr. Will Gamarra, a great tax preparer, the company has been able to help both small and large businesses with their tax preparation concerns.
In the process of his great desire and passion to helping individuals and businesses get the best of their tax preparations, Mr. Gamarra furthers his education in tax law which has made him a professional tax preparer.
He has professional experience in international taxation, preparation of individual's tax returns, small business tax returns, and multistate tax returns.
Why Mr. Gamarra is the right Tax Preparer to handle your Next Tax Preparation?
Before you give out your tax preparation cores to a tax preparer, you must first consider his/her professional qualifications – at least this will save you valuable time.
The following are the professional qualifications of Mr. Gamarra:
Mr. Gamarra is currently a member of the American Institute of Certified Public Accountants (AICPA).
He was licensed as a CPA by the California state Board of Accountancy. Licensed as a CPA in Virginia state Board of Accountancy, he is a holder of M.S. in Management of Information Technology at John Hopkins University.
He has a B.S. in Accounting at George Mason University. He also has a B.S. in Decision Science and Management Information System at the same university.
Organizations that He has helped as a Professional Tax Preparer
Over his vast number experience as a quality tax preparer, Mr. Gamarra has been able to help organizations achieve their tax preparation objectives. Below are some of these organizations:
1. Putnam and Associate: Here, Mr. Gamarra worked as a Certified Public Accountant and a tax specialist. He helped with the preparation and review of tax returns.
2. Booz, Allen and Hamilton: he was here as a senior consultant, majorly in Financial Management. He supported various government agencies for the purpose of integrating financial systems and the processes. Some of the clients are Joint Staff, the Department of Defense, Army, Marines, and also the Department of Health and Human Services.
3. Engineering, Management, and Integration: he worked as a Senior Principal Engineer. He helped with the to provide solutions to challenges in financial management, business process engineering, corporate governance, system analysis and strategic planning/management.
4. Mantech International: Mr. Gamarra worked here as a senior consultant in Grant Management and also in Financial Management where he was able to support the Health and Human Services department to revamp their financial systems.
5. The Women's Building in San Francisco: worked as a volunteer here and provided specialized tax training to other volunteers on how to be a tax preparer for low-income taxpayers. He has helped low-income payers prepare and review various tax returns through this platform.
The following are the industries by which Mr. Gamarra has impacted as a good tax preparer:
- Real Estate: Helped individuals and businesses taxpayers report both their passive and active participating in real estate ventures.
- Government: He has assisted the department of defense with accounting modernization in Finance and Accounting System (DFAS) which is overseen by Business Management Modernization Program (BMMP).
- Others include non-profit and churches, automotive, self-employed taxpayers, restaurants, international and abroad taxpayers, United States of America citizens living abroad, internet bases businesses, and finally professional service providers lawyers, engineers, and writers).
Are you looking for the best tax preparer in Antioch, CA?
Get in touch with Gamarra, CPA Inc. today.
Visit us at 1320 Willow Pass Road, Suite 600, Concord, CA 94520
OR
Call: 925-954-4441 to set up a free appointment.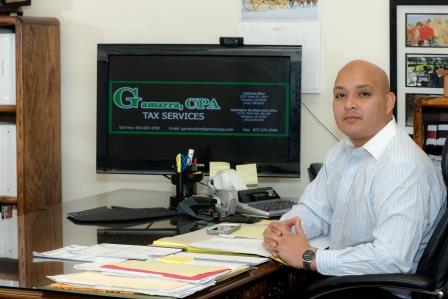 Licensed as a CPA in California State Board of Accountancy

Licensed as a CPA in Virginia State Board of Accountancy

M.S Management of Information Technology at John Hopkin University

B.S., Decision Sciences and Management Information Systems, George Mason University

B.S., Accounting, George Mason University

Member of the American Institute of Certified Public Accountants (AICPA) with a focus on Business Information Technology